After a 3 month stay in Japan,
DAVID BOWIE is
is leaving very soon. Never thought I would have visited so many times. Every visit gave me another finding after all. It is kind of weird that I finally got to be in touch with him not in person but in the things which once belonged to him. Anyway, thank you, V&A, for making the exhibition possible.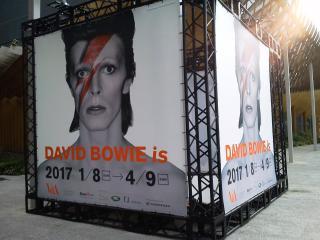 Might be a good idea to spend some time at the photo exhibition, "
SUKITA meets BOWIE "SPEED of LIFE
," with a glass of beer, wine, or coffee, surrounded by David Bowie music.
Canon Gallery S in Shinagawa now holds a photo exhibition, '
SUKITA/M BLOWS UP David Bowie & Iggy Pop
.'
David Bowie has been dead for a year now.
On the 10th of January 2016, the world was literally shattered by the news of his passing, which included me myself. I now and then wonder what would be like if starman were still here with us. Well, anyway, the starts definatly look different today.
David Bowie mural in Brixton, Oct. 2016.
Aladdin Sane, most probably a pun on "A Lad Insane", is the sixth studio album by David Bowie. It is also well-known for his appearance on the album cover, the makeup on his face. Since "
DAVID BOWIE is
" is on its way to Japan, I've got to show off things I made.
My Aladdin Sane…of course it's a stamping work.
My Aladdin Sane with the album cover
My Aladdin Sane with bits and pieces of eraser-stamps to create the work.
Lovely art-work, eh?
Cheers!
にほんブログ村
Not that I am trying to be a promoter or anything, but just that…HOLY COW! Look at the board on the platform, JR East.
BOWIE-LEGACY is now on sale.
Here goes the plaque on 23 Heddon Street, where the photo for David Bowie album ''The Rise and Fall of Ziggy Stardust and The Spiders from Mars' was taken years ago.
No flowers, no photos, no messages, no art works, no tributes, no nothing any more.
Was a lovely morning, indeed.
Here landed Ziggy Stardust in Jan. 1972, a couple of minutes away from Piccadilly Circus just off Regent Street.
23 Heddon Street, now commemorated by a plaque stating THIS MARKS THE LOCATION OF THE COVER PHOTOGRAPH FOR THE ICONIC DAVID BOWIE ALBUM 'THE RISE AND FALL OF ZIGGY STARDUST AND THE SPIDERS FROM MARS' is one of the spots Bowie fans should visit.
In early morning in Oct. 2016
Gee, it has changed a lot…but you see some still the same here and there
THE RISE AND FALL OF ZIGGY STARDUST AND THE SPIDERS FROM MARS
Have I mentioned it or not?
Paid a visit to GALLERY SPEAK FOR in Daikanyama, Tokyo.
David Bowie Unseen by Markus Klinko
Held now in Odaiba is
【-david-bowie-の軌跡-】追悼(1947-2016)写真展&ストア
. You can see photos like this and that, some well known and some quite rare.
photo taken and uploaded with permission